Aligning the Correct Data Analytics Model to your Business
Aligning the correct data analytics model to your business needs can lead to a significant return on investment, increased business growth, and better alignment to your business strategy. In addition to financial returns, analytics, and AI can be used to fine-tune business processes and day-to-day operations. In order to leverage the power of data analytics correctly, it's important for organisations to standardise the way they identify the business questions that need to be answered.
Today, many organisations are moving at a rapid pace which sometimes requires timely business decisions to be made. These decisions are sometimes based on the intuition and experience of the business decision-makers, by their current understanding of the business landscape. For data analytics to play a successful role in shaping these decisions, the data presented to the business should add weight and enrichment to ensure the decisions to be made are backed by facts. For this to occur successfully, data analysts need to work cohesively with the business to ensure there is a strong alignment to the business strategy and ensure the right questions are being asked.
Taking a holistic approach would help the organisation establish the right process to identify the underlying business problems and then take the appropriate actions, using a data-driven decision-making approach.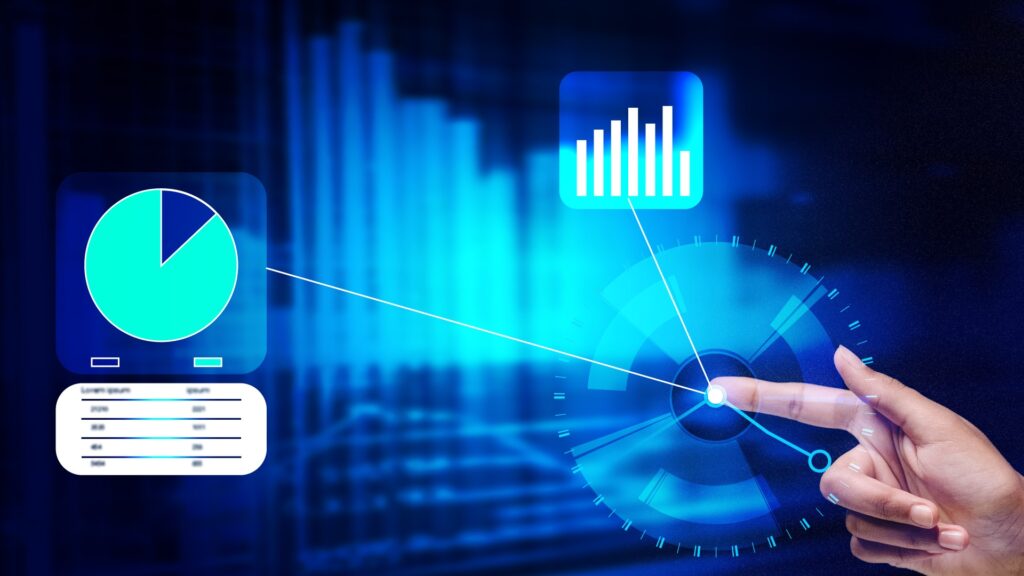 4 Major Questions to ask your business
A good data analytics model should be aligned to answering a set of business questions to fulfill business requirements. In addition, it's important for data analysts and data scientists to understand what metrics and KPIs the business needs to measure.
What was the cause of the problem? (Reports)
Why did it happen? (Diagnosis)
What will happen in the future? (Predictions)
What is the best way forward? (Recommendations)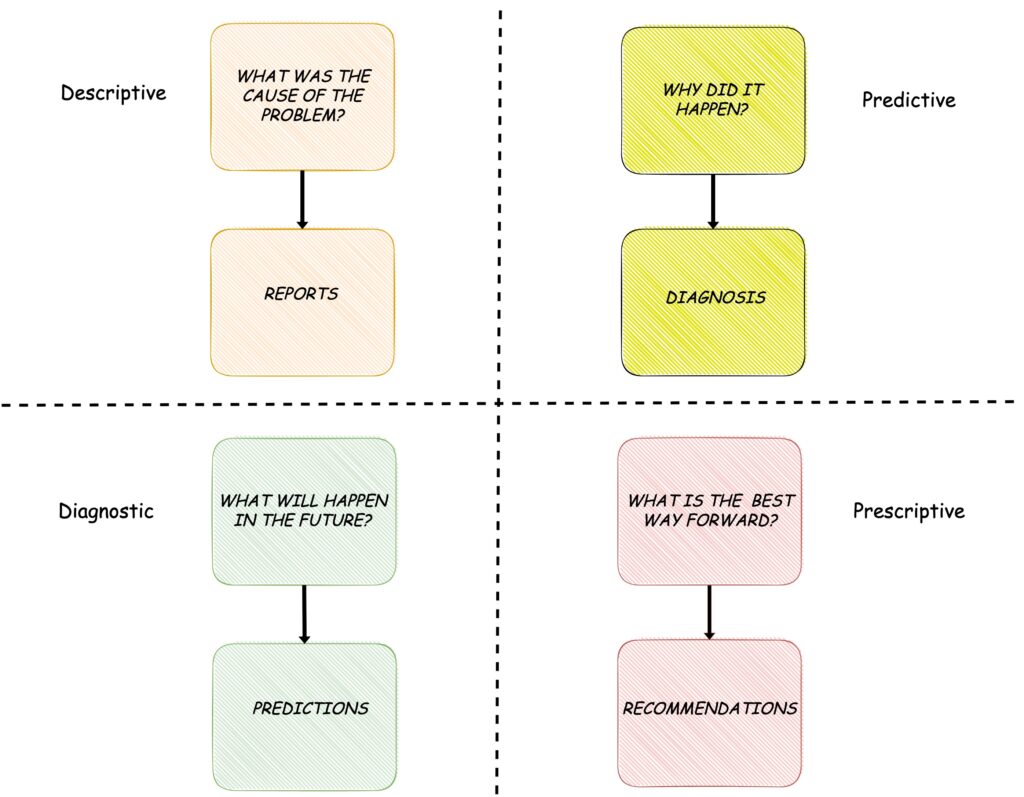 What is Data Analytics?
Data analytics is the process of utilising quantitative methods to derive actionable insights from data to make informed decisions.
There are 4 primary methods of data analysis: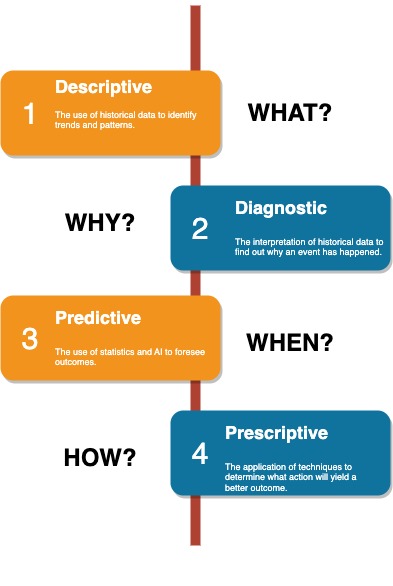 Analytics Models deployed in various industries
Type of Analytics: Descriptive
Industry: Education
Many LMS platforms and learning systems offer descriptive analytical reporting capabilities with the aim of helping businesses and institutions measure learner performance to ensure that training goals and targets are met. Descriptive Analytics was used to track course enrollments, and course compliance rates, record which learning resources are accessed, collate course survey results, and identify the length of time that learners took to complete a course among other activities
Type of Analytics: Diagnostic
Industry: Retail
A retail store that sells eco-friendly products noticed a recent surge in revenue from one state. During discovery, the company learned that the surge was driven by a leap in sales of a single product. Research revealed the causal relationship: the state's governor had signed a law making plastic shopping bags illegal, causing sales of reusable bags to soar.
Type of Analytics: Predictive
Industry: E-commerce
E-commerce websites are predicting customer preferences and recommend products to customers based on past purchases and search history using state-of-the-art artificial intelligence algorithms.
Type of Analytics: Prescriptive
Industry: Insurance
Insurance companies want to observe clients who want fast and reliable customer service online. Based on the pricing and premium information for clients, they are prescribing the right pricing and premium information using AI models. However, there are considerations regarding privacy-enhancing technologies (PETS) that allow the AI models to train on homomorphic encrypted data by taking data privacy into account.
Businesses can easily adopt a data analytics model to enhance the way they do business. Here is an example of a data analytics lean canvas model encompassing an end-to-end solution shared below: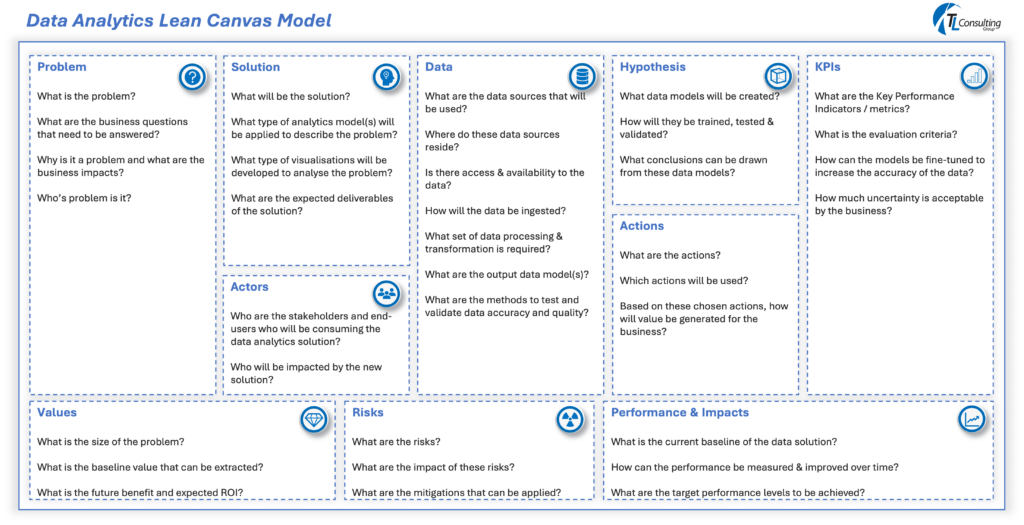 Conclusion
In conclusion, for organisations to extract meaningful insights from their data to make the right decisions about their business, the correct data analytics model eliminates guesswork and manual tasks, be it choosing the right content or developing the right products to your customer needs.
TL Consulting provides advisory and transformation services in the data analytics & engineering domain and can help your business design and implement the correct-fit data analytics model aligned to your business needs and transformation goals.
Visit TL Consulting's data-engineering page to learn more about our service capabilities and send us an enquiry if you'd like to learn more about how our dedicated consultants can help you.