Enov8 Partnership
Data Security | Automated Profiling, Masking & Validation | Referential Integrity | Regulatory Compliance
TL Consulting is a regional partner with Enov8, across Australia and New Zealand. Our Professional Services team possess extensive experience implementing and advising Clients in implementation of data solutions, covering areas including data security, data privacy and compliance. Our Advisory services help enable Clients to look at the "Data Compliance" problem statement more broadly providing a range of strategies to adhere to compliance/regulatory requirements. i.e. APRA and GDPR.
Automate your Data Profiling and Respond Faster to Data Security Risks
Enov8's Data Compliance Suite provides greater visibility and control of the data across your IT environments including production and test. Automate your data profiling to identify potential breaches and rapidly remediate data security risks to protect customer information and uplift compliance & security.
The Enov8 platform has clear differentiation, with the ability to automate data profiling, masking and validation, with the implementation model delivered across a host of data sources and technologies. The end-state model delivered to our Clients is a standardised, repeatable and scalable lifecycle making complex data refreshes in NPE environments streamlined and compliant with a support model that delivers flexibility and regular technology innovation.
Enov8's Data Compliance Suite
TL Consulting understands the challenges that IT projects face that require "production-like" data to effectively develop and test platform changes, however are faced with data compliance risks. Organisation's are responsible more than ever to protect individual's Personally Identifiable Information (PII) from disclosure or misuse where the consequences of not complying to "privacy acts" (i.e. APRA and GDPR) is significant both financially and harmful to company reputation.
The Data Compliance Suite (DCS) is an all-in-one tool that uses automated intelligence to detect where data security exposures reside, rapidly remediates these risks without error and centrally validates your data compliance.
The DCS tool follows a simple 3 step process to Profile, Mask and Validate data across IT environments which contain PII data or production patterns.
With the help of DCS, our Professional Services team can assist from advisory to implementation to build a unified and secure data governance strategy that integrates seamlessly with your current data management framework. This will provide you with greater visibility over your data which is compliant with internal policies and government regulations, while your IT environments obtain the functional data it needs for your platform development and testing requirements.
Profiling
Our Professional Services team will perform an assessment in combination with your team's specialists to identify data sources that may contain PII data. The goal is to determine the overall plan and define SLA's to ultimately embed the data compliance lifecycle into a repeatable and scalable BAU process.
The DCS tool connects to the data sources and performs an automated profiling of the various tables or entities contained within the data source configuration. After initial review of the profiling results, our team along with your SME's will analyze the fields that have been identified as PII and will revise the rules to prepare the fields for masking.
DCS supports a wide range of data sources including SQL & NoSQL databases, flat files such as CSV (Tab/Pipe Delimited), XML and JSON.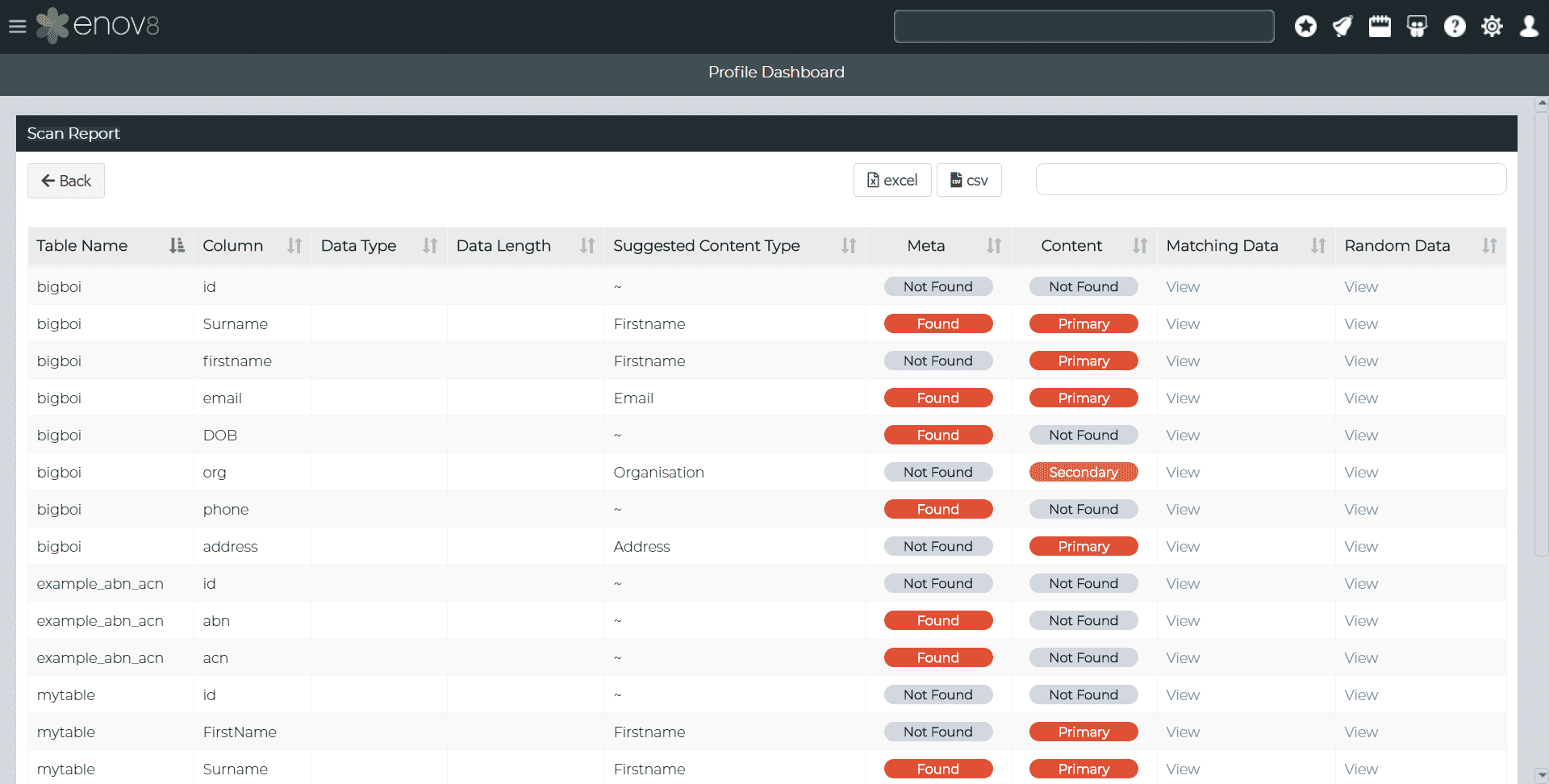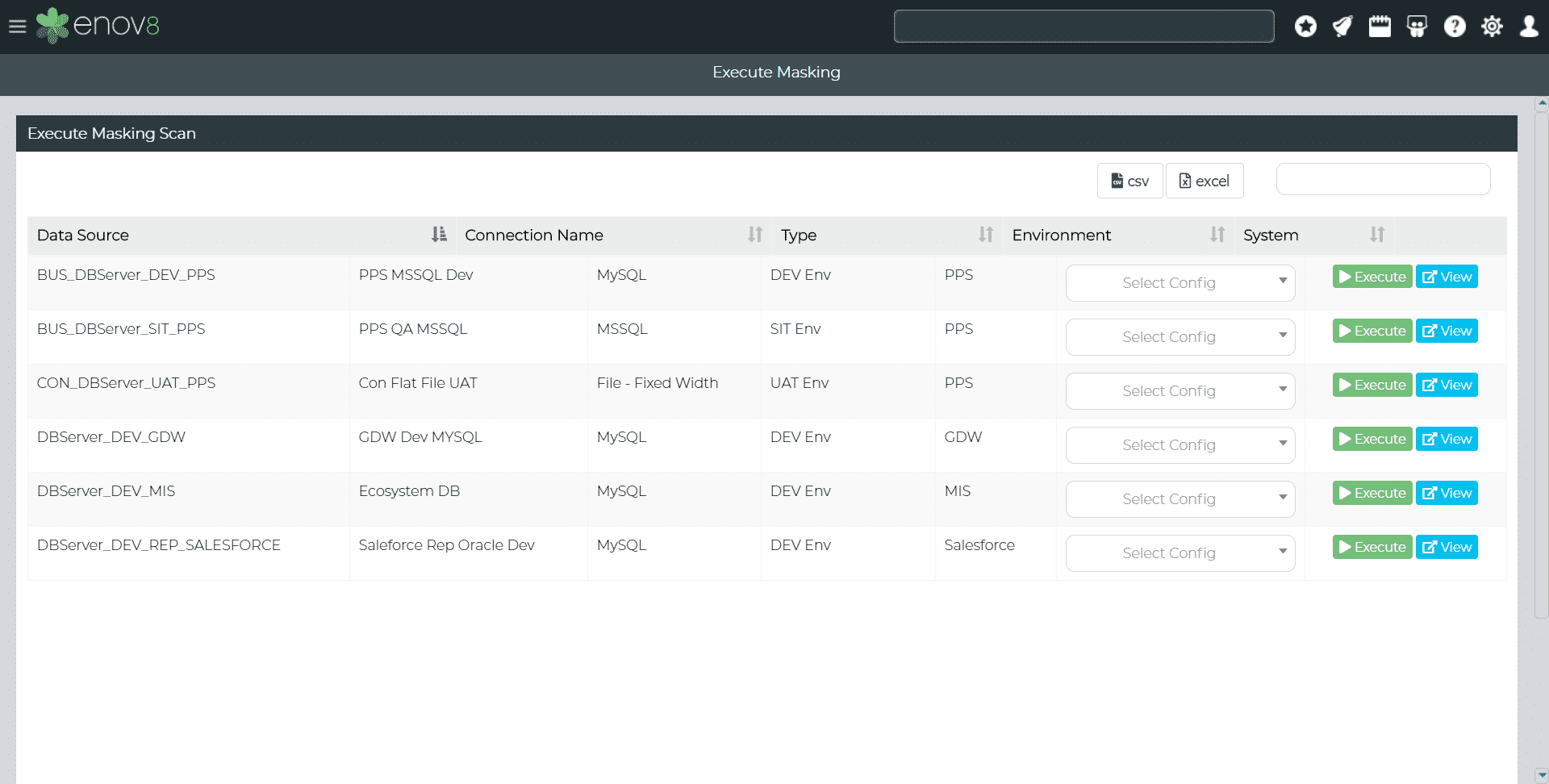 Masking
Based on the output from the Profiling phase, our team will prepare and execute the masking configuration across all PII fields that have been profiled. The DCS tool will automatically mask the fields based on certain rules and masking patterns that have been defined within the tool.
Our team will monitor the masking process from start to finish and identify any bottlenecks that could be further optimized. Our team will then engage your application SME's to perform a level of UAT across key business processes to validate the masked data is usable with the application. Further execution cycles may be performed after the initial masking cycle has completed to refine and optimize the configuration for BAU handover. 
Validation
Once the masking has successfully completed for the PII fields in scope, our team will review each field to ensure they have been masked correctly according to the masking rules. The DCS tool will then automatically validate each field involved and produce a compliance report to ensure that production patterns have been removed from the data source.
Our Professional Services team will provide training and guide your SME's along the way to ensure this process can be repeated and scaled across other areas of the technology landscape.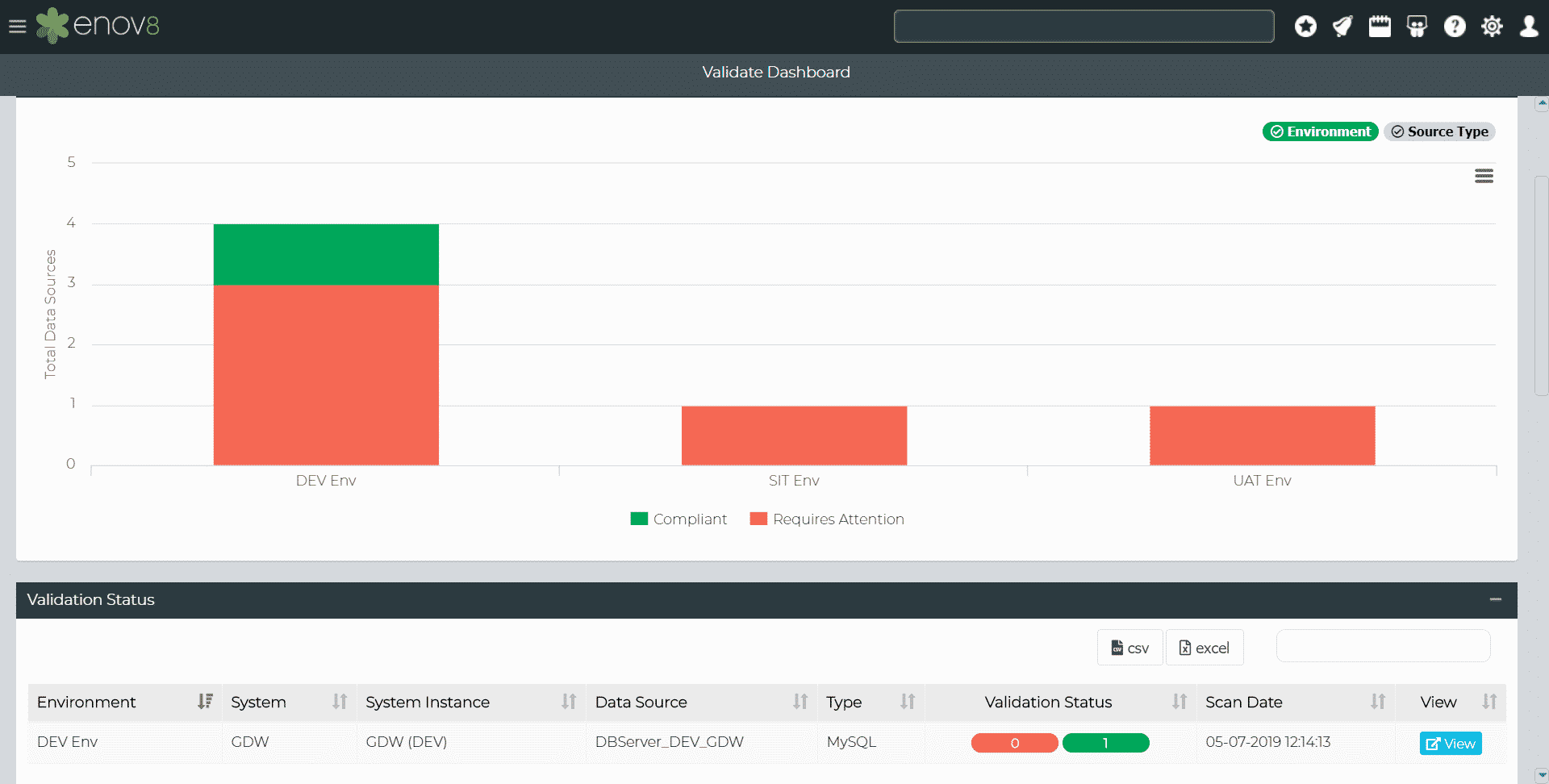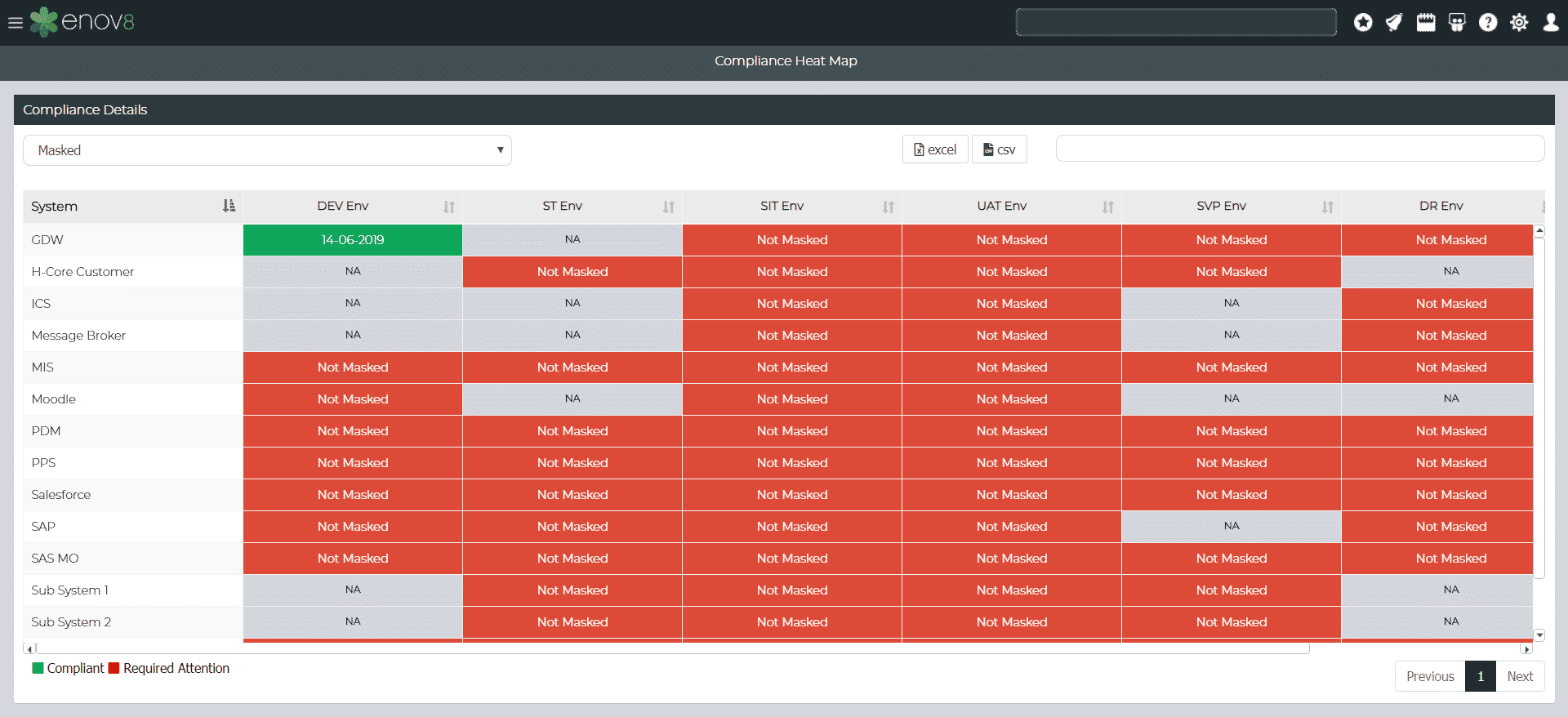 Compliance
Once the PMV process is complete, the DCS Compliance Dashboard provides a bird's eye view of "PII compliance" across your IT & Test Environments. A centralized capability that supports greater visibility for Audit, Security & Compliance teams alike.
Benefits of Data Compliance Suite (DCS)
Simplicity - Easy to Learn, Painless to Onboard, Tech & Non-Tech friendly
Compliance - Identify Risk, Advert a Security Breach, Protect Customer Identity and Avoid Huge Penalties
Speed - Faster Risk Analytics, Rapid Remediation and Automated Compliance Validation
DevOps Compatible - Continuous Data Integration & Delivery and Automated Data Operations
Integration with Data Virtualization tools
Wide coverage of Structured, Semi-Structured and Unstructured Data Sources including SQL & NO-SQL databases and flat files including CSV, Fixed Width, XML and JSON
Supports Cloud and On-Premise environments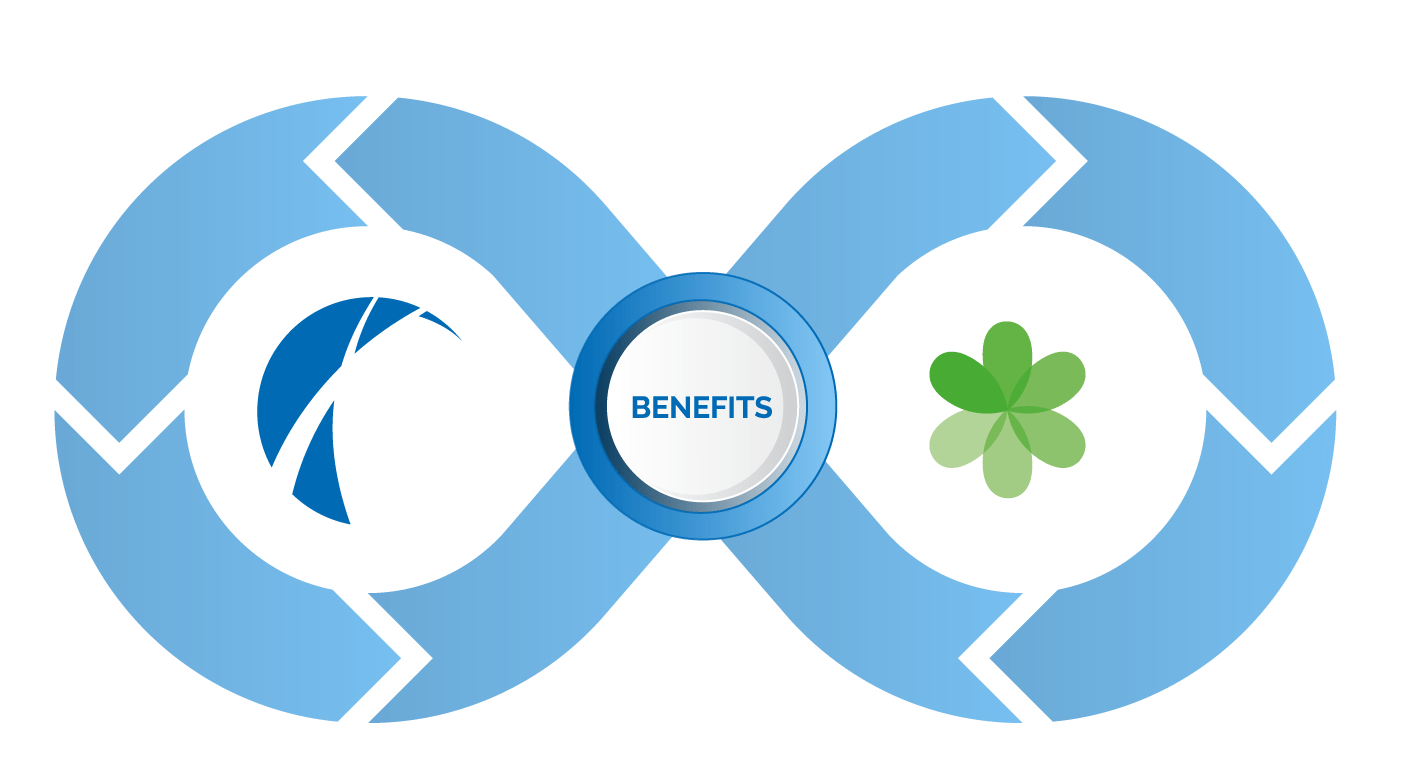 Enov8's Data Compliance Suite supports a wide range of data sources listed below and many more