APPLICATION MODERNISATION WITH VMWARE TANZU
The Need for Accelerating Application Modernisation: 
Building innovative, modern apps and modernising existing software are key imperatives for organisations today. Modern apps are essential for deepening user engagement, boosting employee productivity, offering new services, and gaining new data-driven insights. But to maximise the impact of modern apps, organisations need to deliver them rapidly—fast enough to keep up with swiftly changing user expectations and emerging marketplace opportunities.
As per the Google's CIO Guide to App modernisation, in today's IT landscape, 70-80% of C-Executives report that their IT budgets are spent on managing the legacy applications and infrastructure – In addition to that, legacy systems consume almost 76% of the IT spend. Despite a large amount of investment in legacy applications, most businesses fail to see their digital transformation plans to a satisfactory. On the other hand, constantly changing digital behaviours of consumers and the evolution of viable, reduced Opex, self-sustaining infrastructure models that are better suited to today's pace of technological change are the primary drivers pushing application modernisation up the CIO/CTO's list of priorities.
According to a study conducted by Google, public cloud adoption alone can reduce the IT overheads by 36-40% when migrating from traditional IT frameworks. However, application modernisation can help in further reduction – it frees up the IT budget to make space for innovation and explore new business value opportunities. Lastly, this digital transformation brings greater agility, flexibility, and transparency while opening operations up to the benefits of modern technologies like AI, DevSecOps, intelligent automation, IoT, etc.
Challenges to the Adoption:
As per the State of Kubernetes survey 2021, here are the 5 different challenges enterprises face today with the cloud native /Kubernetes adoption, while lack of experience and expertise with the implementation and operations being the top of the list.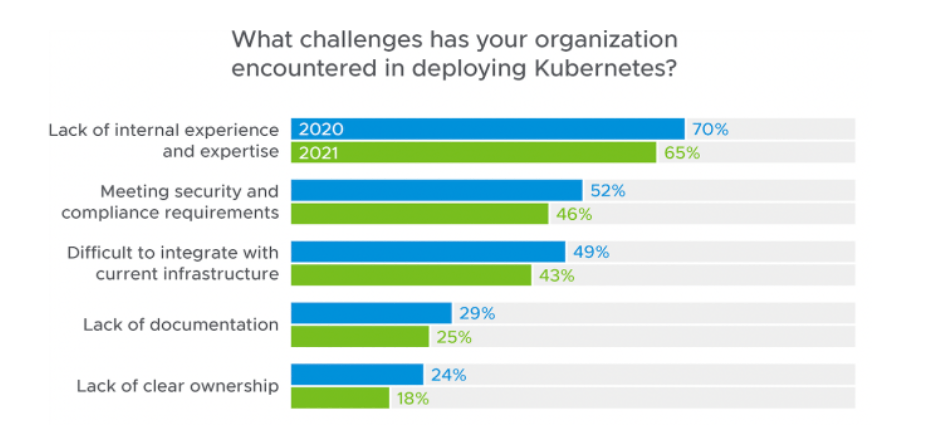 Containers are very lightweightAs more and more businesses are moving rapidly towards implementing cloud native practices to enable agility and increased time to market, the operational impacts to the business can be vary time to time. While these challenges bring complexity, if would be less complicated and cheaper to address them from the very beginning as part of its cloud strategy.
Due to its lightweight nature, we can create a container image and deploy a container in a matter of seconds.
VMWare's decades of vast experience in virtualisation and the quest of bringing innovation had driven towards introducing the VMWare Tanzu Portfolio. The VMware Tanzu portfolio empowers developers to rapidly build modern apps across a multi-cloud landscape while simplifying operations by using Kubernetes as an underlying platform.
VMware Tanzu is an essential component of the growing VMware App Modernisation portfolio, which provides enterprises the required tools and technology, which would help in building new applications and modernising their existing application suits. Using Tanzu portfolio, organisations can rapidly—and continuously—deliver the modern apps that are vital for achieving their strategic goals.
Fast-tracking modern apps delivery: Tanzu helps developers deliver modern apps with a quick turnaround and greater reliability. Organisations can use that speed to better address quickly evolving business requirements and changing priorities.
Flexibility With Kubernetes: With Tanzu, Organisations can run Kubernetes in their private clouds, on-premises datacentres in public clouds and at the edge. This flexibility helps organisations align application and cloud decisions better with technical and operational requirements.
Simplified Operations: Deploying and managing the applications across multiple clouds and environments brings new challenges to the operations. Tanzu provides tools to manage, govern and secure all Kubernetes clusters centrally irrespective of where they reside. As a result, operations teams can meet application security and reliability expectations while controlling costs.
Stronger DevOps Collaboration: Tanzu helps alleviate the tension between rapid development goals and stable operations. It transforms the DevOps relationship by giving operations teams what they need to support fast release cycles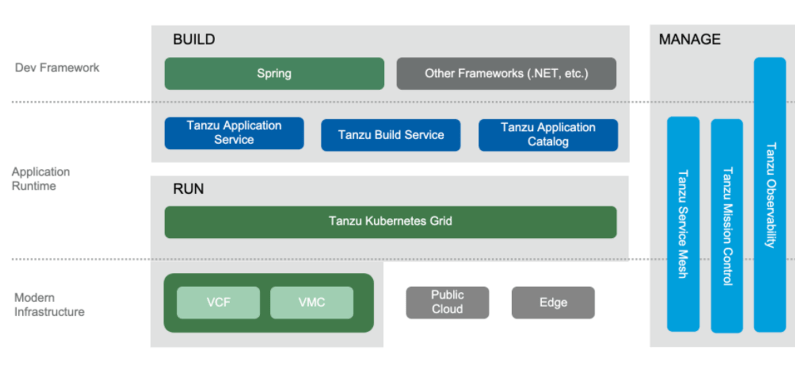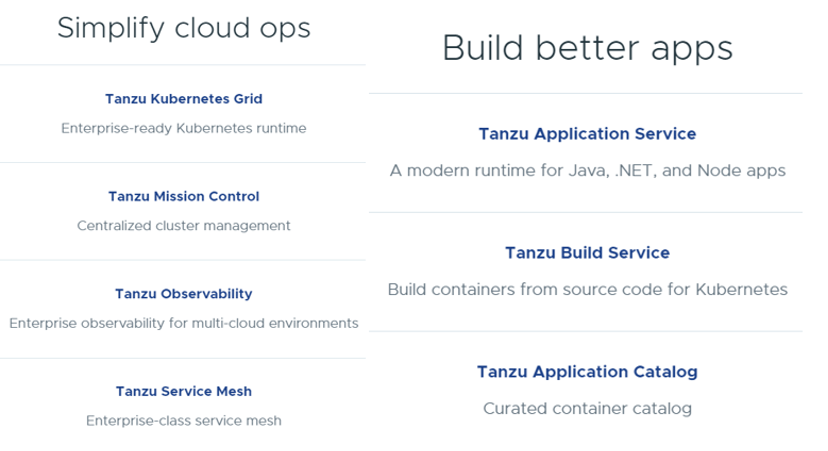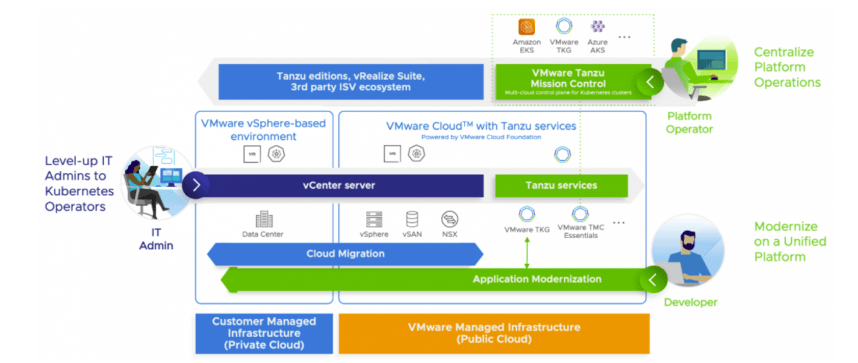 VMWare Tanzu Value Preposition:
The core principles underlying the vision for VMware Tanzu are entirely consistent with VMware's promise to help customers run any app on any cloud and to drive Kubernetes adoption, to ensure that businesses don't need to invest in any additional code or training.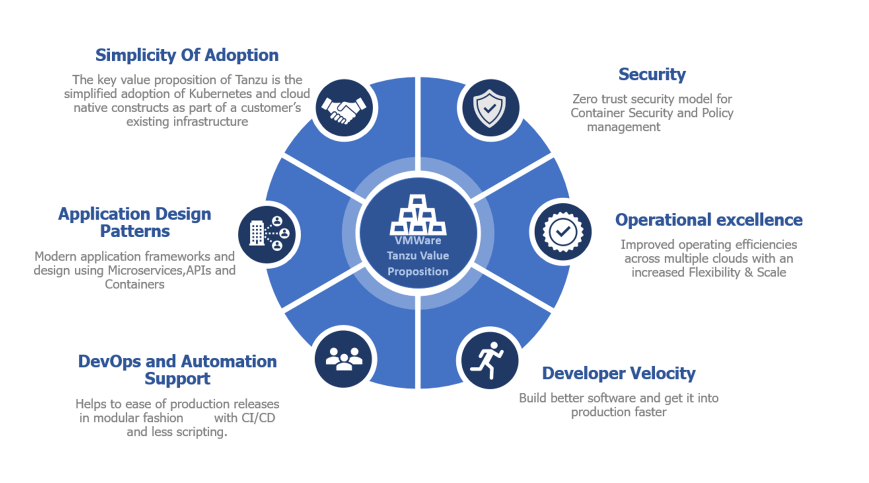 How Can TLConsulting help organisations with the Modernisation Journey with VM Ware Tanzu?
Cloud-native adoption requires a mindset shift, which drives Culture and processes change across the organisation in its IT landscape and technology choices throughout the stack. With the IT being the focus point of the enterprises business strategy. This transformation shift requires the new application to be developed and delivered at a quick turnaround time with greater reliability and quality.
Transforming your existing application into a modern app is a complex process with no or minimal guaranteed path for success. A successful transformation requires not only the transformation of your organisation's technology but also people-centred assets. Culture, process, and leadership need to change to keep up with your new ecosystem.
Since Cloud Native is so new, most organisations lack the experience to handle the transformation road on their own. It's all too easy to get lost.
TL Consulting is well-positioned with certified and experienced professionals to help your organisation define and drive your vision with a "Customer First approach" and cloud-native philosophy. We will understand the business objective, long term strategies, and risks involved with a pragmatic assessment matrix and formulate the tailor-made transformation roadmap.
We will also assist in the design, architecture, and implementation of the transformation to deliver highly reliable, secure modern apps with a faster time to market.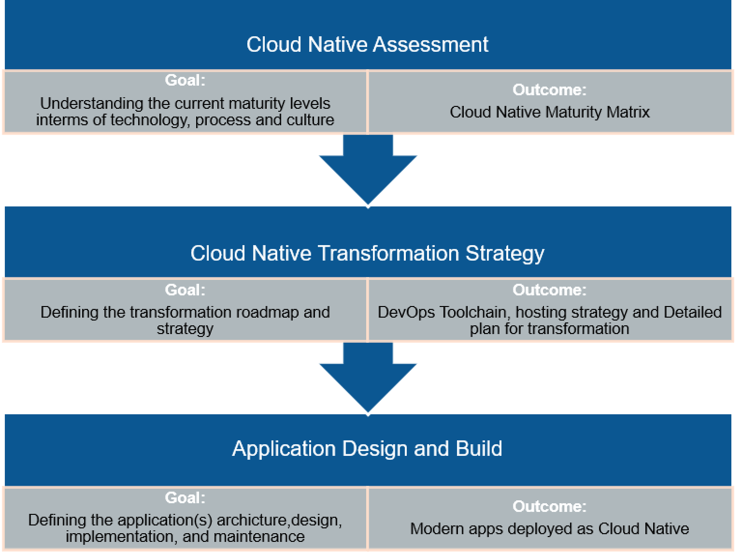 Service Offerings:
TLConsulting brings its consulting and engineering personnel to application modernisation adoption and implementation by providing range of services – as below

Summary:
Adopting and Implementing a Cloud-Native transformation is not an easy feat. Careful thought and planning are required for adopting a Cloud Native strategy and roadmap. For enterprise architects, CTOs and CIOs thinking about transforming their organisation to support the Cloud Native world, some key points should be considered: standardizing their platform and services to support a Cloud Native platform like VMware Tanzu to gain the maximum benefit out of the transformation.
While adopting Cloud Native applications can be exciting and enables an enterprise to become much more flexible and agile, the challenges and risks of doing so should be carefully addressed to align the Cloud Native strategy with the business.